Aerogel
Several really amazing things to note about aerogel are its incredibly light weight, incredible strength for such small mass, and its incredible insulating powers. Aerogel often weighs only 3-10 times as much as air. Its strength and insulating powers are probably best seen to be believed.
Aerogel insulating a flower from a Bunsen burner flame
Aerogel is a fantastic insulator — if you had a shield of aerogel, you could easily defend yourself from a flamethrower. It stops cold, it stops heat.
Aerogel holds 15 entries in the Guinness Book of Records, more than any other material. Sometimes called "frozen smoke", aerogel is made by the supercritical drying of liquid gels of alumina, chromia, tin oxide, or carbon. It's 99.8% empty space, which makes it look semi-transparent.
Aerogel protecting crayons from a blowtorch
You could build a warm dome on the Moon. Aerogels have unbelievable surface area in their internal fractal structures — cubes of aerogel just an inch on a side may have an internal surface area equivalent to a football field. Despite its low density, aerogel has been looked into as a component of military armor because of its insulating properties.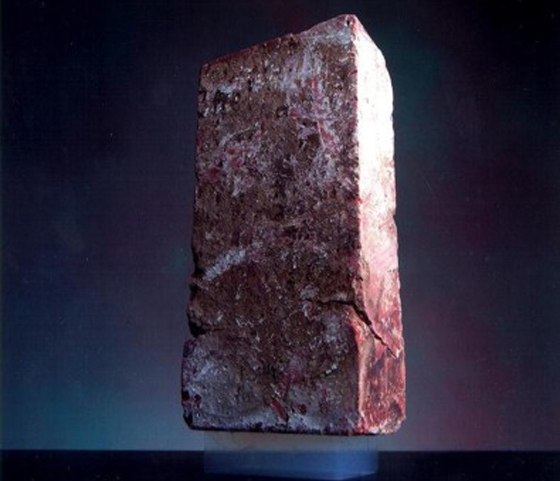 This tiny block of transparent aerogel is supporting a brick weighing 2.5 kg. The aerogel's density is 0.1 g/cm3.
Aerogel (also called 'frozen smoke' because of its hazy blue appearance), is a truly remarkable material. It is the lightest and lowest-density solid known to exist, and holds an unbelievable 15 entries in the Guinness Book of World Records, including best insulator and lowest density solid.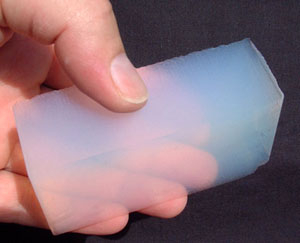 Aerogel also called 'frozen smoke'
Aerogel is composed of 99.8% air and is chemically similar to ordinary glass. Being the world's lightest known solid, it weighs only three times that of air.
Aerogel is one of the top insulation
Aerogel is not like conventional foams, but is a special porous material with extreme microporosity on a micron scale. It is composed of individual features only a few nanometers in size. These are linked in a highly porous dendritic-like structure.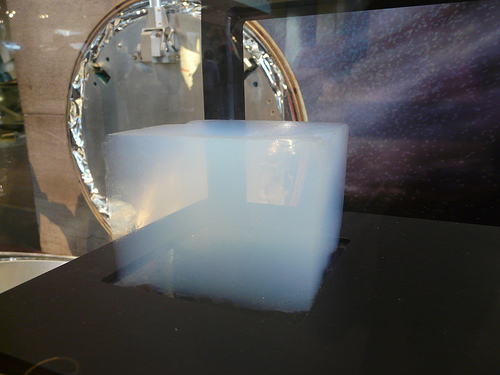 A good chunk of it on display in the smithsonian air and space museum
This exotic substance has many unusual properties, such as low thermal conductivity, refractive index and sound speed - in addition to its exceptional ability to capture fast moving dust. Aerogel is made by high temperature and pressure-critical-point drying of a gel composed of colloidal silica structural units filled with solvents. Aerogel was prepared and flight qualified at the Jet Propulsion Laboratory (JPL).
JPL also produced aerogel for the Mars Pathfinder and Stardust missions, which possesses well-controlled properties and purity. This particular JPL-made silica aerogel approaches the density of air. It is strong and easily survives launch and space environments. JPL aerogel capture experiments have flown previously and been recovered on Shuttle flights, Spacelab II and Eureca.
You might also like
Random Posts